T-Mobile Galaxy S7 and S7 Edge start receiving November 2017 Security Patch software OTA Update with build number G930TUVS4BQJ2 and G935TUVS4BQJ2 respectively: Samsung has released the latest flagship smartphones in the Galaxy series which are the Galaxy S8 and the Galaxy S8+. The smartphones are the latest smartphones to be launched in 2017 by the company which is also the successor to Galaxy S7 and S7 Edge.
The smartphones were launched in 2016 in many different countries around the world including the US. Now, there are many carriers that have been operating in the US which sell the latest smartphones from various companies apart from getting the unlocked variants from the company. Now, one of the carriers which have been selling the locked variant of the Galaxy S7 and S7 Edge in the US is T-Mobile which is also the carrier with the largest network in the country.
Now, the T-Mobile carrier that has been selling the Galaxy S7 and S7 Edge has been delivering security updates as well as Android software updates to the smartphones on its network including the Galaxy S7 and S7 Edge. Now, we have known that a new update is being rolled out to the Galaxy S7 and S7 Edge smartphones which are operating on the T-Mobile network. This update is said to bring the latest security patch on the smartphone which is the November security patch that was released by Google earlier this month.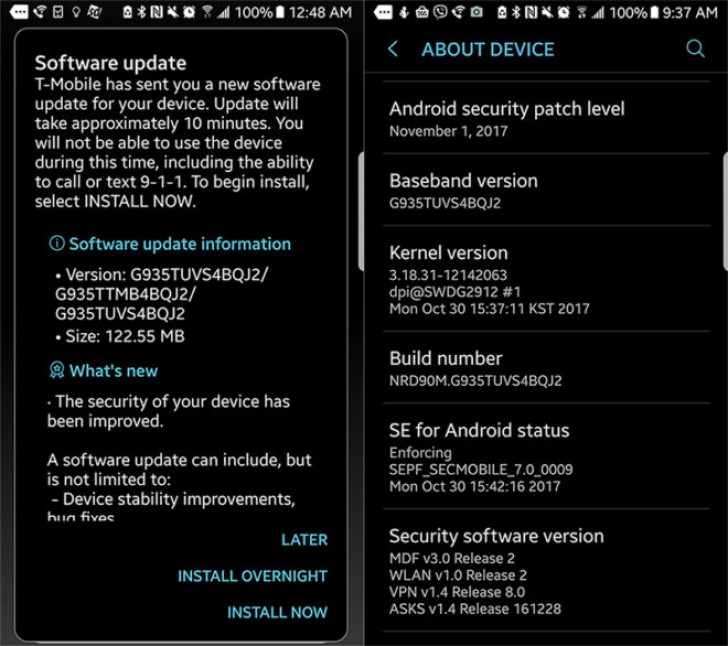 Talking more about the update from T-Mobile, the latest update comes with build number G930TUVS4BQJ2 for the Galaxy S7 and G935TUVS4BQJ2 for the Galaxy S7 Edge. Now, the update size is fairly moderate as the latest update comes at 121.9MB and 122.5MB respectively for Galaxy S7 and S7 Edge.
Also, you should wait for the update to come to your device and make sure that whenever the update comes to your device, you should install it on your smartphone to have your phone updated to latest security patch.