OnePlus finally released the latest Flagship killer "The OnePlus 5T" On November 16, 2017. Like all other OnePlus devices, it runs on near to stock firmware called OxygenOs. This Firmware is based Android 7.1.1 Nougat. It also comes loaded with all the latest Android Nougat Features.
The best things about Oneplus smartphones is customisation and user-friendliness. The UI is very simple just like any Nexus or Pixel device which makes doing some important task like taking screenshot easier.
The OnePlus 5T is OnePlus's latest flagship phone. This phone's powered by the Snapdragon 835 chip and has 8GB RAM along with 128GB onboard storage. The OnePlus 5T sports a 6.01″ 1080p Optic AMOLED display with an 18:9 aspect ratio. It also comes with an improved dual camera setup, with the secondary camera sensor now being paired with a relatively wide 27.22mm lens with an F1.7 aperture. The OnePlus 5T runs on Oxygen OS 4.7 based on Android 7 Nougat, and it comes with a few new features like Face Unlock.
Here I will be sharing 2 very simple methods to take a screenshot on OnePlus 5T and As you may know these method will be applicable for all OnePlus devices.So if you have any other OnePlus phone, you can use these steps to take Screenshot
How to take Screenshot on OnePlus 5T (2 Simple Method)
METHOD 1 | Hardware Keys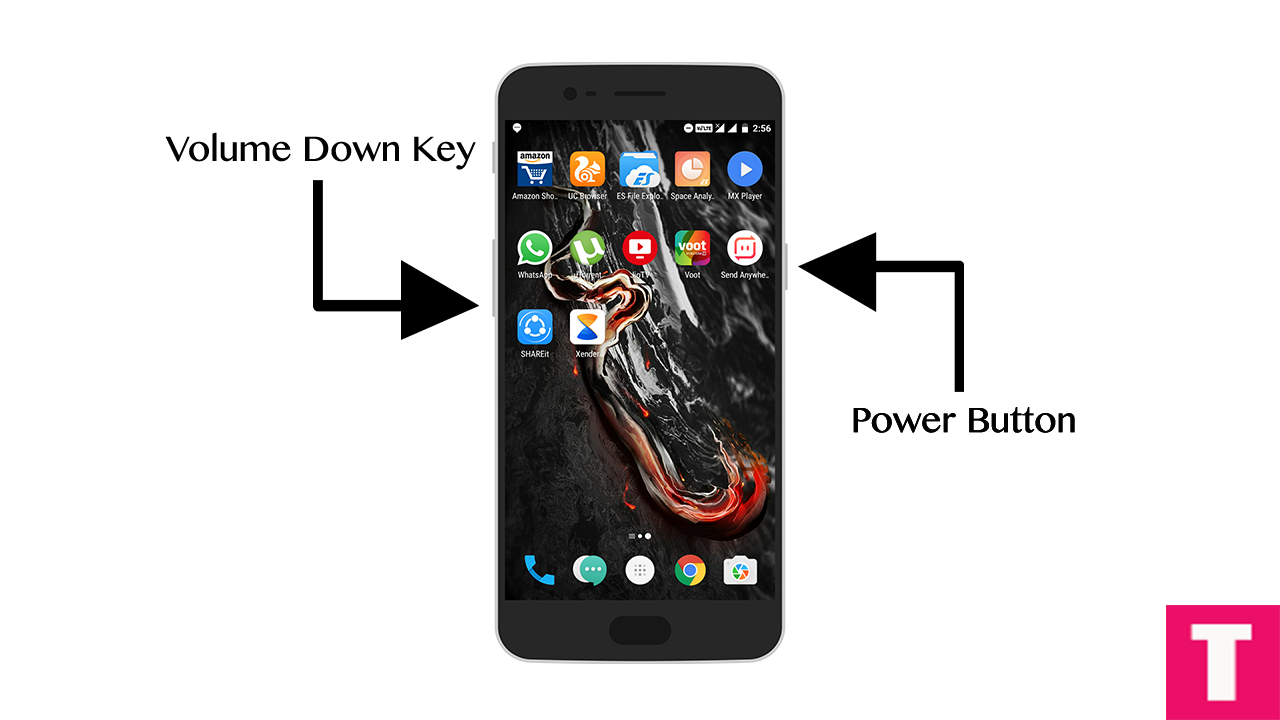 Step 1. First, go to the screen on which you want to take the screenshot.
Step 2. Then, press and hold power and volume down buttons simultaneously for few seconds
Step 3. Your screenshot will be captured and there will be a notification about it in the notification bar.
METHOD 2 | Using Gesture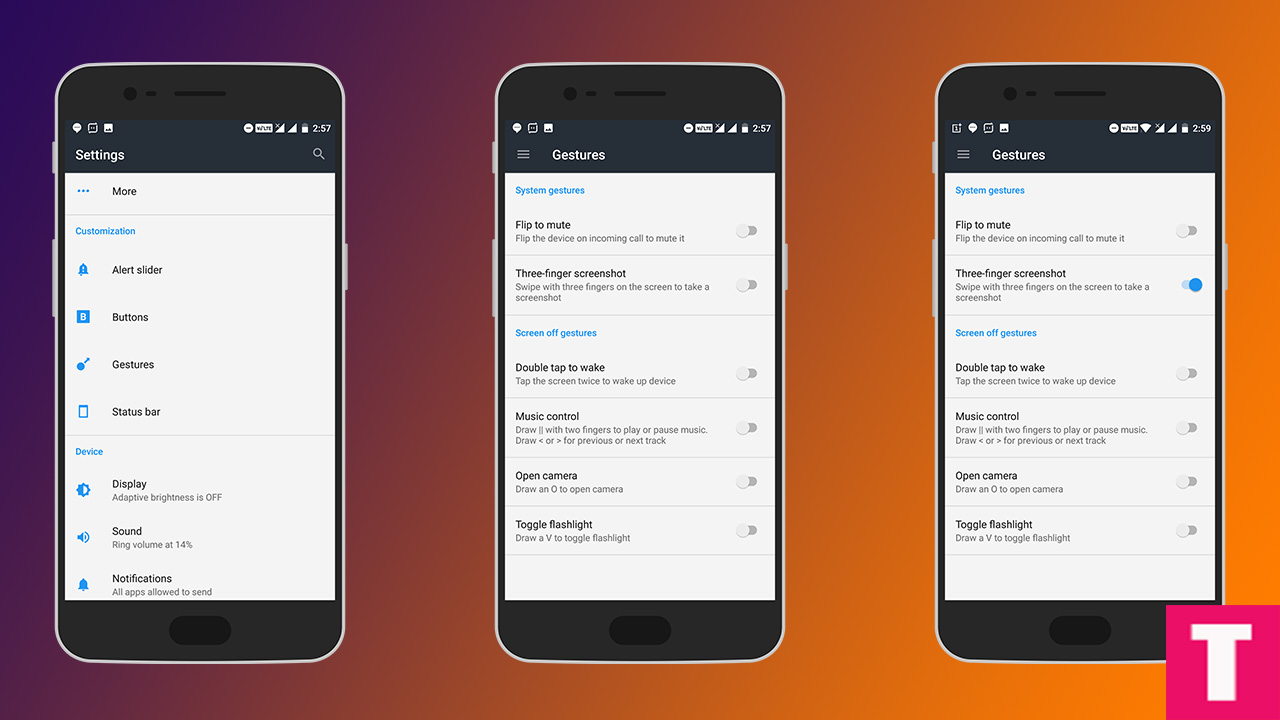 Step 1. First, go to Settings -> Gestures.
Step 2. Then, enable "Three-finger screenshot" by sliding the slider to the right.
Step 3. Now, go to the screen of which you want the screenshot.
Step 4. Do a three finger swipe down gesture on the screen. Your Screenshot will be captured.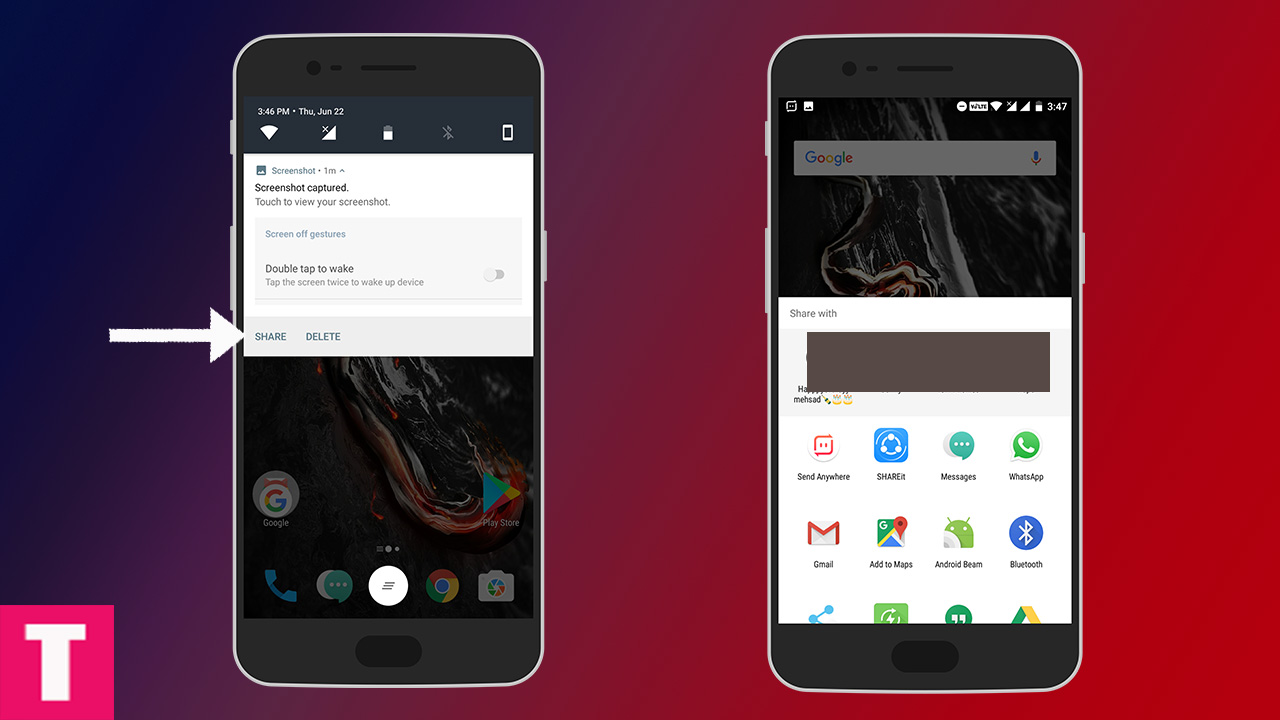 Step 1. Once the screenshot is captured, pull down the notification panel.
Step 2. There will be two options share and delete.Click On Share to open the sharing options.
Step 3. Now you can share the screenshot wherever you want.Done!!!
If you have any question or suggestion related to this post feel free to leave that in the comment section below 🙂
Related:
Image Source: TheDroidGuru